RT's The Wokies: America's politicians had a busy 2020 virtue-signaling. Here are the top 10 — RT Op-ed
Posted by M. C. on December 28, 2020
https://www.rt.com/op-ed/510675-wokies-america-politicians-virtue-signaling/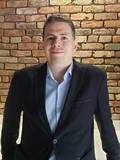 Nebojsa Malic
is a Serbian-American journalist, blogger and translator, who wrote a regular column for Antiwar.com from 2000 to 2015, and is now senior writer at RT. Follow him on Twitter @NebojsaMalic
Amid the pandemic lockdowns, riots and a very controversial election, America's politicians raced to out-woke each other. From the obscure to the obvious, all listed here pledge allegiance to the flag…of critical social justice.
Here they are, starting on the local level and going all the way up to the top.
10. Minneapolis Mayor Jacob Frey
Minneapolis, Minnesota Mayor Jacob Frey simply must be mentioned in any review of performative wokeness in 2020. After the death of George Floyd – an African-American man whose death during a botched arrest was attributed to an officer kneeling on him, rather than Covid-19 or fentanyl present in his system – rioters set a police station and the surrounding block on fire. From there, the riots spread to the neighboring St. Paul and then across America.
Frey's reaction was to take a knee and wail like a professional mourner at Floyd's funeral, as if he were best friends with the man. He also tried to join the "protesters" two days later and declare his devotion to social justice, only to be chased off by demonstrators calling on him to resign. He hasn't been heard from much since. 
9. Minneapolis City Council
Yet the 13-member city council apparently decided to outdo Frey in public displays of wokeness. Composed of twelve Democrats and one Green, the council first voted to "defund the police" – outright replace the Minneapolis PD with a "reimagined public safety" agency. Except three of them then hired private security – at taxpayer expense of $4,500 a day – for themselves, saying they had received threats. City council chair Lisa Bender famously told CNN that being able to call the police when your home is being invaded "comes from a place of privilege," in one of the stupidest statements of 2020.
Since then, the council has voted to spend an extra $500,000 to hire new police officers, only to slash the police budget by $8 million – in the name of 'racial justice' and 'equity' of course. They did so while lamenting the 537-percent increase in carjackings and a 17-percent spike in violent crime in general, as if that was entirely unrelated.
8. Seattle Mayor Jenny Durkan
For three weeks in June, Black Lives Matter activists and Antifa occupied several blocks of downtown Seattle, declaring it a Capitol Hill Autonomous Zone (CHAZ), also known as Capitol Hill Occupied Protest (CHOP). Mayor Jenny Durkan, a Democrat, initially insisted it was "not a lawless wasteland of anarchist insurrection" but "a peaceful expression of our community's collective grief and their desire to build a better world."
"We could have the summer of love," she told CNN. When criticized by President Donald Trump, she shot back: "Seattle is fine. Don't be so afraid of democracy."
Seattle is fine. Don't be so afraid of democracy. https://t.co/o26PkJnYhA— Mayor Jenny Durkan (@MayorJenny) June 12, 2020
CHAZ protesters, meanwhile, stormed City Hall and demanded Durkan's resignation. Eventually, they even showed up outside her house – whose location had been kept secret since Durkan's days as a federal prosecutor. Only then did Mayor Jenny decide that maybe CHAZ wasn't a summer of love and democracy, and moved to dismantle the shantytown.
See the rest here
Be seeing you