Govt Stats: UK Knife Crime Highest on Record Khan's London Police Install Knife Arches, Residents Board Up Homes for Notting Hill Carnival
Posted by M. C. on August 27, 2018
Can you imagine this happening in pre-EU UK? In what other capital city do citizens board up their homes for a street fair?
The UK used to be the poster boy (excuse the gender reference) for US gun control advocates. Now it is a knife, acid throwing and glassing crime capital. A PC, open border, multicultural, nanny state culture has turned Londonstan into a hellhole. Witness the decade long Pakistani groomer cover up. If you attack a burglar in your home YOU go to jail.
Gun control, knife control, what next? Sharp stick (pencil) control?
It is too late for border control. Maybe it is just too late.
https://www.breitbart.com/london/2018/04/26/stats-uk-knife-crime-highest-record/
by Liam Deacon
There has been a 22 per cent surge in knife crime and an 11 per cent increase in gun crime, with offences "disproportionately concentrated in London" and other cities, the Office of National Statistics (ONS) has said.
The numbers mean knife crime is at its highest ever recorded level, and murders were also up by nine per cent in England and Wales, with a total of 653 recorded by police across last year.
Police recorded 39,598 offences involving a knife or sharp instrument in the year up to December 2017 – up from 32,468 in the previous 12 months – and 6,604 firearms crimes recorded over the same period.
Khan's London: Police Install Knife Arches, Residents Board Up Homes for Notting Hill Carnival
https://www.breitbart.com/london/2018/08/26/london-police-deploy-new-knife-arches-at-carnival-area-on-lockdown/
London police have secured extra stop and search powers and deployed knife detection arches and extra armed officers equipped with acid attack kits for the Notting Hill Carnival, as homes and shops in the area board up fearing damage.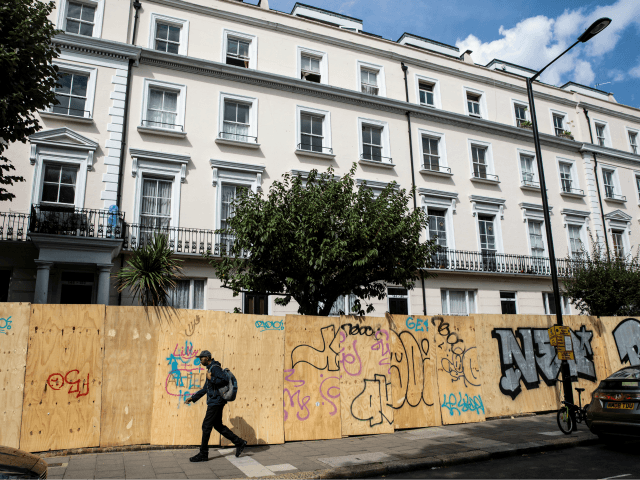 Just days before a million people turn out for the annual event, the capital's violent crime wave hit the grim milestone of 100 homicide probes for 2018, with robberies, sexual assaults, and acid attacks also up.
Some 13,000 police officers are being deployed to Europe's largest street event over the bank holiday weekend – around 450 more than attended last year's carnival, which was marred by hundreds of arrests and a large number of violent incidents in which 28 officers were injured…
There are 6,100 on-duty officers for Sunday's "family day" and almost 7,000 officers, some from the Metropolitan Police's newly formed Violent Crime Task Force, for Monday's event, which the force hopes will "combat the threat of violent crime"…
The extra police measures come as reports suggest the number of businesses in the Notting Hill area fitting barricades has doubled in 10 years as the event has grown in size.
Workers spent Saturday fortifying the area, covering windows and doors with wooden boards and blockading doorways, yards, and alleys to stop carnival attendees urinating in them.
"Let no one be in any doubt that if you have the intention to come to Carnival and be involved in crime or violence, my officers will robustly and proactively target you to keep Londoners safe," added Musker.
Be seeing you