Army Body Armor May Be Too Heavy for Combat, Report Finds | Military.com
Posted by M. C. on September 27, 2018
News Flash! The pentagram has figured out loading a person with weight slows them down.
The load shown in the photo appears excessive to me. Just look at your local cop. They aren't far from this either. You wonder how they can sit in a car but where there is a will there is a way!
The other question you should be asking is why are these guys in Africa? How are they defending the US?
How likely are they taking lead from US weapons distributed by the CIA and state department (think Hillary-Libya) or given away/lost through any number of failed programs.
On second thought they better keep wearing the armor.
https://www.military.com/daily-news/2018/09/25/army-body-armor-may-be-too-heavy-combat-report-finds.html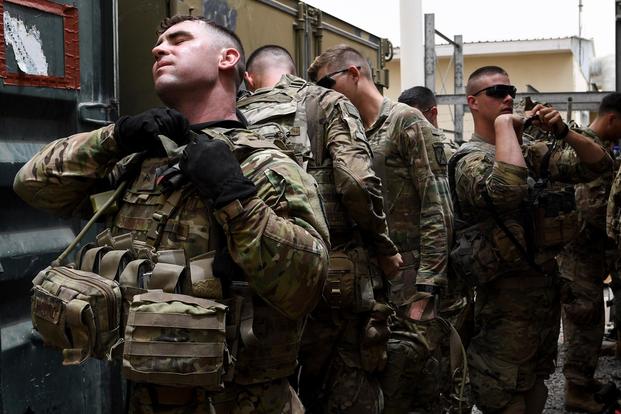 A U.S. Army Infantryman with the 10th Mountain Division assigned to the East African Response Force puts on his body armor in preparation for an emergency deployment exercise on Camp Lemonnier, Djibouti, July 1, 2018. (U.S. Air Force/Senior Airman Haley D. Phillips)
The U.S. Army should authorize commanders to allow combat troops to leave the service's heavy, over-designed body armor behind on certain missions to increase physical performance, according to a new report from the Center for a New American Security.
"Body armor provides increasingly advanced protection, but at a cost in soldier performance," according to "The Soldier's Heavy Load," part of the "Super Soldiers" series of reports that Army Research Laboratory commissioned CNAS to conduct looking at soldier survivability.
"Increased soldier load not only slows movement and increases fatigue, but also has been experimentally demonstrated to decrease situational awareness and shooting response times," the report added….
Be seeing you