Veterans have fought in wars — and fought against them
Posted by M. C. on November 13, 2018
"Observe Armistice Day, Wage Peace!"
https://www.militarytimes.com/opinion/commentary/2018/11/10/veterans-have-fought-in-wars-and-fought-against-them/
By Micheal Messner
If President Donald Trump had his way, the nation would be celebrating the centennial of the World War I armistice on Nov. 11 with a massive military parade in Washington, D.C.
But that won't be happening. When the Pentagon announced the president's decision to cancel the parade, they blamed local politicians for driving up the cost of the proposed event.
Veterans were especially outspoken in their opposition. Retired generals and admirals feared such a demonstration would embarrass the U.S., placing the nation in the company of small-time authoritarian regimes that regularly parade their tanks and missiles as demonstrations of their military might. And some veterans' organizations opposed the parade because they saw it as a celebration of militarism and war.
As a young boy, I got my first hint of veterans' aversion to war from my grandfather, a World War I Army veteran. Just the mention of Veterans Day could trigger a burst of anger that "the damned politicians" had betrayed veterans of "The Great War."
In 1954 Armistice Day was renamed Veterans Day. In previous years, citizens in the U.S. and around the world celebrated the 11th hour of the 11th day of the 11th month of 1918 not simply as the moment that war ended, but also as the dawning of a lasting peace.
"They told us it was 'The War to End All Wars,'" my grandfather said to me. "And we believed that."…
In 1954, President Dwight D. Eisenhower signed the law changing the name of the holiday to Veterans Day, to include veterans of World War II and Korea.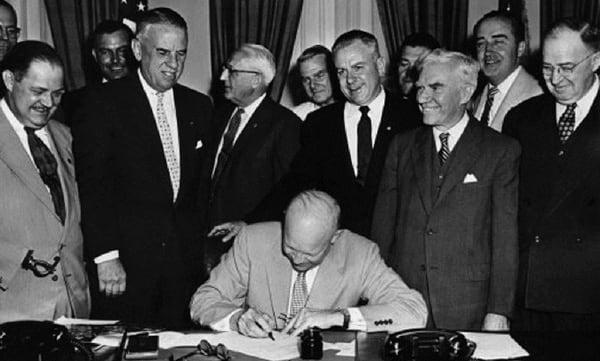 President Dwight Eisenhower signs HR 7786, June 1, 1954, which changed Armistice Day to Veterans Day. (Eisenhower Presidential Library and Museum)
For my grandfather, the name change symbolically punctuated the repudiation of the dream of lasting peace. Hope evaporated, replaced with the ugly reality that politicians would continue to find reasons to send American boys — "guys like me," as he put it — to fight and die in wars.
World War I, like subsequent wars, incubated a generation of veterans committed to preventing such future horrors for their sons.
From working-class Army combat veterans like my grandfather to retired generals like Smedley Butler — who wrote and delivered public speeches arguing that "war is a racket," benefiting only the economic interests of ruling-class industrialists — World War I veterans spoke out to prevent future wars. And veterans of subsequent wars continue speaking out today…
Be seeing you