Triumph of Conventional Wisdom: AP Expunges Iran/Contra Pardons from Barr's Record – Antiwar.com Original
Posted by M. C. on January 27, 2019
https://original.antiwar.com/shusseini/2019/01/16/triumph-of-conventional-wisdom-ap-expunges-iran-contra-pardons-from-barrs-record/
by Sam Husseini
A president facing a major scandal, just as the highest-profile trial is about to begin, pardons the indicted or convicted officials around him to effectively stop the investigation that's closing in on his own illegal conduct.
Trump soon? We'll see. But this actually describes what President George H.W. Bush did in 1992.
The Iran/Contra scandal revealed, among other things, that the Reagan/Bush White House had secretly sold missiles to Iran in exchange for hostages held in Lebanon, using the proceeds to fund right-wing forces fighting the leftist Nicaraguan government in violation of US law.
On Christmas Eve 1992, just as the indicted former Defense Secretary Caspar Weinberger was about to face trial, Bush pardoned him and five others, including former Assistant Secretary of State Elliott Abrams and and former National Security Advisor Robert McFarlane. The New York Times (12/25/92) reported this as "Bush Pardons 6 in Iran Affair, Averting a Weinberger Trial; Prosecutor Assails 'Cover-Up.'"
The attorney general for Bush who approved the pardons, William Barr, is now being nominated for the same position by Trump. Is this background relevant?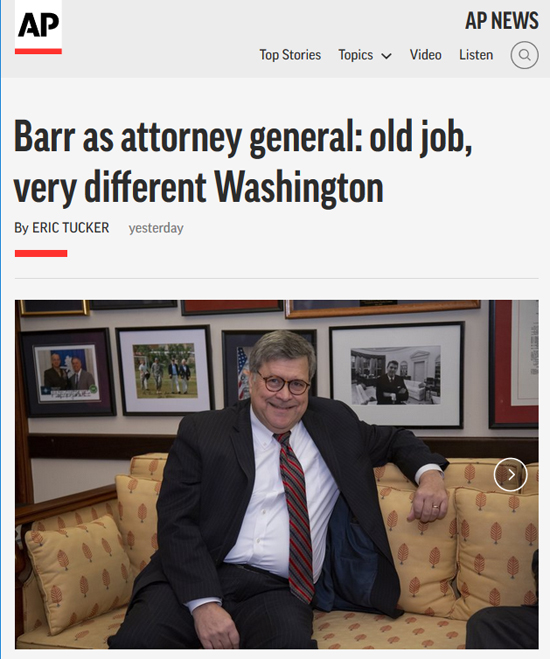 In "Barr as Attorney General: Old Job, Very Different Washington" (1/14/19), Associated Press reporter Eric Tucker made no mention whatsoever of the Iran/Contra pardons. Rather than seriously examine the trajectory of presidential power and accountability, Tucker framed the story, as the headline indicates, as a stark contrast between the gentlemanly Bush and the "twice-divorced" Trump:
Serving Trump, who faces intensifying investigations from the department Barr would lead, is unlikely to compare with his tenure under President George H.W. Bush.
The false implication is that Bush did not himself face intensifying investigations from Lawrence Walsh, who operated out of the Justice Department's Office of Special Counsel. The misleading comparison is compounded by Tucker describing Trump as "breaking with the practice of shielding law enforcement from political influence" and ousting Attorney General Jeff Sessions for "not protecting him in the Russia investigation" – as if Barr didn't have direct experience in the first Bush administration with imposing political influence on law enforcement to protect a president from investigation.
Instead, Tucker cites Barr's supporters calling him "driven by his commitment to the department" and "very much a law-and-order guy." (The praise for the new head of the department Tucker regularly covers marks his article as a "beat-sweetener," a long and unfortunate tradition of journalists' making their jobs easier by sucking up to sources.)
This deceptive piece was apparently picked up by literally thousands of media outlets. A search of "unlikely to compare with his tenure under President George H.W. Bush" produces over 2,400 results…
After I criticized AP on Twitter for the omission, a later piece by Tucker, co-written with Michael Balsamo, noted perfunctorily in the 16th graph: "As attorney general in 1992, he endorsed Bush's pardons of Reagan administration officials in the Iran/Contra scandal." (A search on "as attorney general in 1992, he endorsed Bush's pardons of Reagan administration officials in the Iran/Contra scandal" produced a mere 202 results.)
While much of the media obsesses over every bit of "Russiagate," some breathlessly anticipating the next revelation will surely bring down the Trump presidency, it's remarkable how little interest there is in the trajectory of presidential power…
Be seeing you