Submitted by Nick Colas of DataTrek Research
The history of US consumerism starts with the Sears Roebuck mail order catalog. Yes, the very same Sears that is struggling to emerge from bankruptcy today. But 125 years ago the company was every bit the disruptive innovator. A brief summary of how that happened:
Mail order became viable in the late 1800s because of the expansion of the US rail system, post office regulations that allowed for catalog mailers at 1 cent/pound, and Rural Free Delivery.
The first Sears catalog was published in 1894 with the slogan "The Cheapest Supply House on Earth".
Its target audience was rural America, which in 1900 was 60% of the US population. This was a deeply underserved community, often with just a thinly stocked general store to supply all their needs.
The 1903 catalog added the commitment of "Your money back if you are not satisfied", reassuring customers that buying a product sight-unseen was a viable way to shop.
We recently bought a 1920 Sears catalog from an eBay seller. Printed in late 1919, it is a fascinating snapshot of American life 100 years ago. And, at 1,493 pages, it is a remarkably wide-angle view of that image.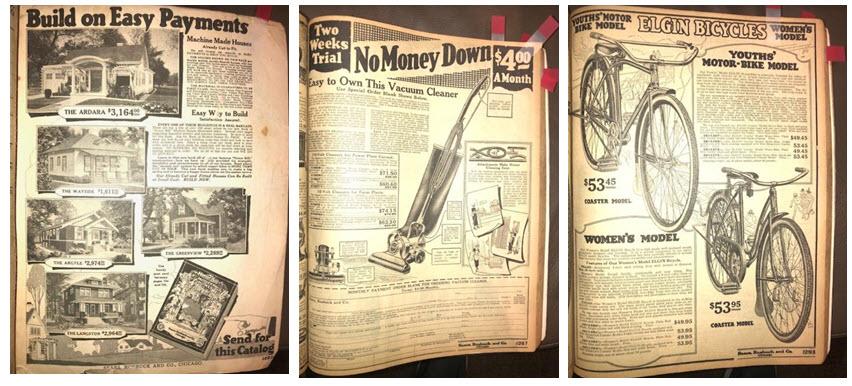 In studying this early bible of the American consumer, three points struck us as particularly salient when comparing 1920 to 2019:
#1: The comparison to Amazon.