Biden may propose $1 trillion in new taxes, says a former aide — and here's how Congress will react – MarketWatch
Posted by M. C. on March 18, 2021
Taxes are just additional costs of doing business. We know who pays for them in the end.
https://www.marketwatch.com/story/biden-may-propose-1-trillion-in-new-taxes-says-a-former-aide-and-heres-how-congress-will-react-11615978938
By
Now that the coronavirus relief package is actually law, it is onto infrastructure for the Biden administration and its razor-thin Democratic majority in Congress. But infrastructure legislation will come with strings attached — very hefty new taxes.
The White House will propose $1 trillion worth of new taxes, according to Sarah Bianchi, head of U.S. public policy and political strategy at Evercore ISI and the former director of economic and domestic policy for then Vice President Joe Biden.
Officials including Treasury Secretary Janet Yellen have started suggesting what will be in the White House plan. Bianchi says hiking the corporate tax rate to 28% from 21%, establishing a global minimum tax and raising what's called the global intangible low-taxed income rate to 21% will be in his plan. The plan will probably include nearly doubling capital-gains taxes on those with income over $1 million, and likely will include taxing unrealized gains at death, ending carried interest and raising the top individual income-tax rate.
Other possibilities include restoring the 2009 estate tax policies, limiting individual deductions, phasing out some business income deductions and establishing a financial transactions tax.
Quarter of the way there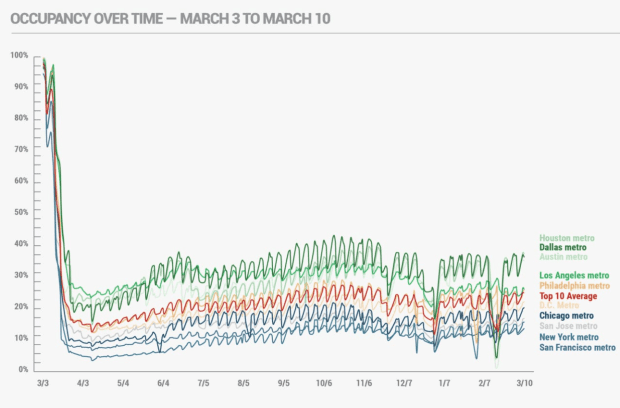 Kastle Systems, a provider of office security services, has been using its keycard and fob data to track office occupancy. Half of the cities measured saw increases in building occupancy last week, bringing the 10-city national average up to 25%, up 0.2% from the week before. Houston has the top occupancy at just over 37%.
Steven Goldstein is based in London and responsible for MarketWatch's coverage of financial markets in Europe, with a particular focus on global macro and commodities. Previously, he was Washington bureau chief, directing MarketWatch's economic, political and regulatory coverage. Follow Steve on Twitter: @MKTWgoldstein.
Be seeing you