US Warns American Citizens To Avoid Kabul Airport One Day After Biden Reassures That All Is Well | ZeroHedge
Posted by M. C. on August 23, 2021
Alas, even that was news to the US president – at least until he is replaced by Kamala Harris in a few weeks – who was shocked when confronted about criticism over the planning for the withdrawal of U.S. troops.
"I have seen no question of our credibility from our allies," Biden told reporters after a speech from the White House on Friday. "As a matter of fact, the exact opposite … we're acting with dispatch, we're acting, committing to what we said we would do."
https://www.zerohedge.com/markets/us-warns-american-citizens-avoid-kabul-airport-one-day-after-biden-reassures-all-well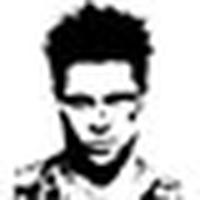 by Tyler Durden
One day after the dementia-ridden president lied to Americans and billions watching around the world that he has "no indication that [Americans] haven't been able to get, in Kabul, through the airport," when asked about evacuating Americans who were unable to reach the only safe place in the Taliban-overrun caliphate…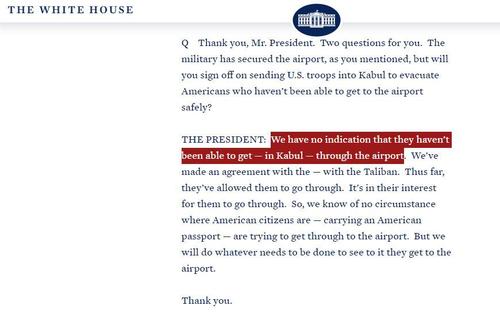 … just 12 hours later (or 2-3 days in Biden time) on Saturday the US embassy in Kabul, or rather what's left of it as it is now officially located at the airport having handed over the actual embassy building to the millitant Suunis, advised Americans in Afghanistan to avoid traveling to Kabul airport, adding that authorities will contact all registered U.S. citizens with further instructions as the situation updates.
"Because of potential security threats outside the gates at the Kabul airport, we are advising U.S. citizens to avoid traveling to the airport and to avoid airport gates at this time unless you receive individual instructions from a U.S. government representative to do so," the embassy posted Saturday morning.
To the thousands of desperate US citizens gathered trying to flee the country the instructions to wait – perhaps until General Milley is finished reading the collected works of Mao Zedong – will come as merely the latest slap in the face by an administration that has rightfully earned international scorn and mockery for its unprecedented botching of the Afghan withdrawal.
The scene at Kabul airport several hours ago per source from an NGO who is trying to get people out. Main problem is that it's impossible to pass the gates and get to the planes even if you are on an evacuees list pic.twitter.com/b3bZn5B34Z — Barak Ravid (@BarakRavid) August 21, 2021
Images circulated on social media this week of Afghans rushing towards a U.S. C-17 transport plane and clinging to its side. A separate video showed what appeared to be two people falling from a military plane as it flew out of Kabul. Since then, crowds have grown at the airport where armed Taliban have urged those without travel documents to go home. At least 12 people have been killed in and around the single runway airfield since Sunday, NATO and Taliban officials said.
The chaos was not the responsibility of the Taliban, an official of the group told Reuters. "The West could have had a better plan to evacuate."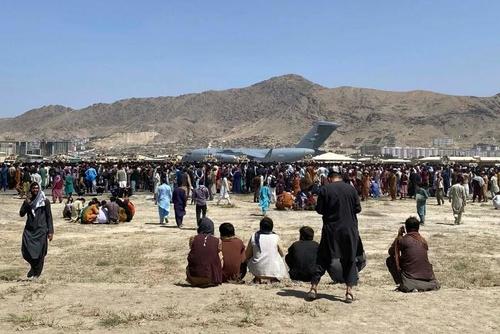 Be seeing you