After Black Lives Matter protesters last year demanded that cities "Defund the Police," San Francisco Mayor London Breed held a press conference to announce that her city would be one of the first to do exactly that. Breed announced $120 million in cuts to the budgets of both San Francisco's police and sheriff's departments. A spokesperson for the police officers' union warned the cuts "could impact our ability to respond to emergencies," but the police chief assured the public that the cuts "will not diminish our ability to provide essential services."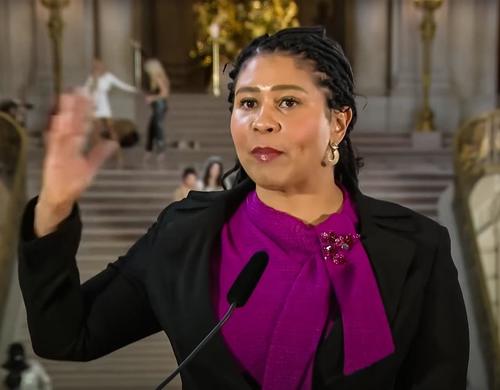 Yesterday, Breed reversed herself in dramatic fashion, announcing that she was making an emergency request to the city's Board of Supervisors for more money for the police to support a crackdown on crime, including open air drug dealing, car break-ins, and retail theft. The plan contains much of what the California Peace Coalition, which Environmental Progress and I cofounded last spring, has been demanding, including in a series of protests by parents of homeless addicts, parents of children killed by fentanyl, and recovering addicts.San Francisco Mayor Breed and other San Francisco politicians have for years promised to crack down on drug dealing and crime, and things have only grown worse over, so skepticism is merited. Already, progressives in San Francisco have denounced Mayor Breed's plan, which she announced with the support of just two members of the city's 11 Board of Supervisors, and without the apparent support of the city's District Attorney.But there's good reason for hope. Breed's plan lays out big goals and makes very specific promises, including more funding for police. There will be a recall election next June of San Francisco's District Attorney Chesa Boudin which many political experts believe will succeed. And the progressive Supervisor who represents the Tenderloin, the neighborhood with most of city's open drug scene, is running for state assembly, creating a leadership vacuum and opportunity for Breed.More importantly, Breed's speech has the potential to change the conversation about crime. Breed explicitly embraced "tough love," which is a very different philosophy from Woke victimology, which divides the world into victims and oppressors and demands that victims, a category that includes street addicts and criminals, only be given things, from cash and clean needles to their own apartment with butler service, and not be held accountable for their actions.
"I'm proud this city believes in giving people second chances," said Breed."Nevertheless, we also need there to be accountability when someone does break the law…Our compassion cannot be mistaken for weakness or indifference…. I was raised by my grandmother to believe in 'tough love,' in keeping your house in order, and we need that, now more than ever."
Breed punctuated her emotional speech with an explitive.
"It is time for the reign of criminals to end," she said."And it comes to an end when are more aggressive with law enforcement and less tolerant of all the bulls**t that has destroyed our city."
Why is that? What explains Breed's 180 degree reversal in less than 18 months? And what will determine whether she keeps her promise?
SF Mayor @LondonBreed has literally just called bullshit on progressive criminal justice reformers "It is time for the reign of criminals to end. It comes to an end when are more aggressive with law enforcement & less tolerant of all the BULLSHIT that has destroyed our city" pic.twitter.com/ewqheftUun

— Michael Shellenberger (@ShellenbergerMD) December 14, 2021
Murder, Looting, and Drug Deaths
The main reason for Breed's turnabout is skyrocketing crime. A report released yesterday by San Francisco's Public Policy Institute of California concluded that homicides increased in Los Angeles, Oakland, San Diego, and San Francisco by 17% in 2021. Property crimes in those four cities rose 7% between 2020 and 2021, reaching 25,000 total in October. Two-thirds of increase is due to larcenies, mainly car break-ins (by 21%) and vehicle thefts (by 10%).