Update (1515ET): Manchin on Monday laid out possible changes to the $2 trillion Build Back Better economic agenda which might encourage him to reverse his "no" on the legislation.For starters, Manchin said he would only support a $1.75 trillion bill that seriously overhauls the US tax code, and that significantly lowers the cost of a broader array of prescription drugs vs. the current offering."If you're going to negotiate then negotiate. Don't start picking and choosing and playing games," he said.
He also wants work requirements for benefits, such as expanded child tax credits, as well as a means test which would cut off people making over $200,000 per y ear.
Manchin's vision for the child tax credit is at odds with Biden's pledge to not raise taxes on those earning less than $400,000. Manchin suggested scaling back the tax benefit for those earning between $200,000 and $400,000. He said he didn't believe that parents who didn't earn any income should be able to get the credit, a revision that would reverse a change Democrats made to the benefit earlier this year.Even if those changes are made, Manchin indicated he has other issues with the bill and how its been pushed through Congress. –Bloomberg
The West Virginia moderate also said he wants the bill to be run through several Senate committees that would examine its effects, and he's also rejected attempts to fast-track "major policy changes" that would bypass the GOP filibuster.*  *  *Update (1034ET): Sen. Joe Manchin said during a local radio interview that Joe Biden's staff did some 'inexcusable' things which drove him to reject the Build Back Better plan.
On statewide WV radio, explaining his decision to buck BBB, Manchin says Biden staffers alienated him. "They drove some things, and they put some things out that were absolutely inexcusable. They know what it is, and that's it," he says on @HoppyKercheval's MetroNews program.

— Steven Portnoy (@stevenportnoy) December 20, 2021

Manchin takes a shot at WH staff. "This is not the president — this is staff.. They drove some things that are absolutely in excusable." "I just got to the wit's end of what happened." He won't say if he'll accept scaled-back bill. Says it needs to go through committees first

— Manu Raju (@mkraju) December 20, 2021
"They figured surely to God we can move one person. We surely can badger and beat one person up. Surely we can get enough protesters to make that person uncomfortable enough that they'll just say, 'OK I'll vote for anything,'" Manchin continued. "Well, guess what? I'm from West Virginia. I'm not from where they're from and they can just beat the living crap out of people and think they'll be submissive, period."*  *  *Progressive Democrats are livid at moderate Sen. Joe Manchin (D-WV) for killing the Biden administration's $2 trillion Build Back Better plan over the weekend.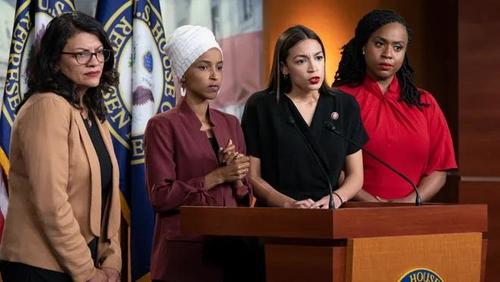 "Our entire democracy is on the line," tweeted congresswoman Alexandria Ocasio-Cortez on Sunday. "We, as always, are here to fight for this agenda. What matters most to us is that it gets done," she added. "But we cannot just shrug our shoulders and accept this as some Charlie Brown moment.""So we need to get back in there and get this s*** done. Period."