Watch Australia closely – by Alex Berenson
Posted by M. C. on January 17, 2022
It is what happens when Omicron hits a highly vaccinated population with little preexisting natural immunity; the early returns are not promising
https://alexberenson.substack.com/p/watch-australia-closely?token=eyJ1c2VyX2lkIjozMTczNjk0NywicG9zdF9pZCI6NDcyMzA3MjgsIl8iOiJPYzUvbSIsImlhdCI6MTY0MjQ0NDA3NSwiZXhwIjoxNjQyNDQ3Njc1LCJpc3MiOiJwdWItMzYzMDgwIiwic3ViIjoicG9zdC1yZWFjdGlvbiJ9.Rvj-ILBeJTM0ASIa6vWpEK2jBMPtpmcZj3LqLMfa2yM
Australia has deported Novak Djokovic for the crime of being unvaccinated.
Sending the world's top tennis player home may make the Karens of the South feel better. Too bad it won't solve their Omicron crisis.
Australia now averages more than 100,000 new Covid cases per day – equal to about 1.5 million in the United States. One fine day last week, it reported 175,000, the equivalent of about 2.5 million, maybe the highest per-capita total any country has ever reported.
Not even six months ago, Australia was still chasing zero Covid and patting itself on the back for "Doughnut Days" – with no new Covid infections. (Because a doughnut is shaped like a zero, see?)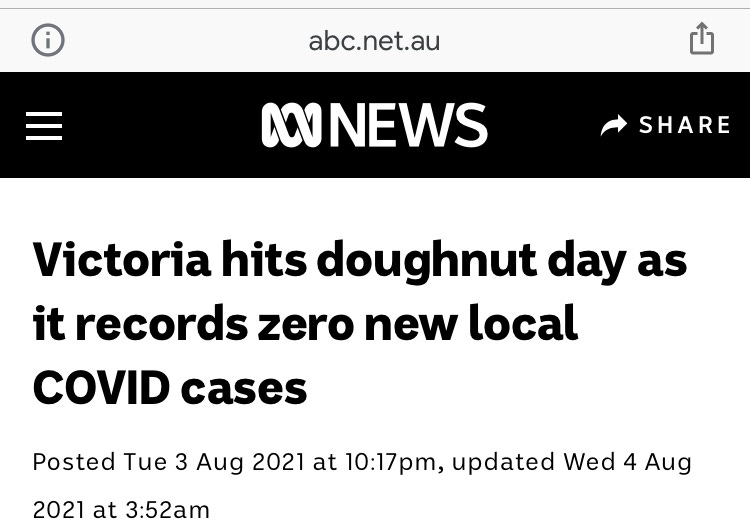 Yeah, about that:
By the way, Australia is among the world's most Covid vaccinated counties.
Its policy of open coercion and discrimination against the unvaccinated has "succeeded" – more than 95 percent of Australians 16 and over have received at least one vaccine dose, and 93 percent two doses. Those figures effectively represent full vaccination – many of the people left are probably simply too frail to tolerate Covid vaccines.
Yet, as this headline explains:
Be seeing you