Deflationary Tsunami On Deck: A "Tidal Wave" Of Discounts And Crashing Prices
Posted by M. C. on June 18, 2022
Not everything is set for a deflationary crash: don't expect luxury items to see price cuts. If anything, luxury prices for things like handbags and shoes are poised to keep climbing, said Oliver Chen, a retail analyst for Cowen: "Demand is so strong, and it's a supply-constrained industry, generally, so quite the opposite rebalancing is happening."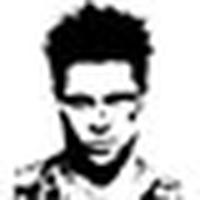 BY TYLER DURDEN
https://www.zerohedge.com/economics/deflationary-tsunami-deck-tidal-wave-discounts-and-crashing-prices
Three weeks ago, we showed readers what happens when the infamous "Bullwhip effect" reversal takes place by presenting the unprecedented surge in the "Inventory to Sales" ratio for a broad range of US retailers covering the furniture, home furnishings and appliances, building materials and garden equipment, and a category known as "other general merchandise," which includes Walmart and Target. Since then, this ratio has only gotten even more extended, and as shown below it is now at the highest level since the bursting of the dot com bubble!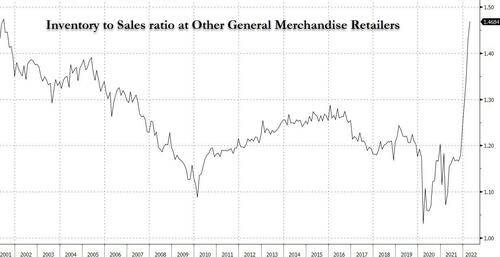 What does this mean for retailers and the price of goods? Three weeks ago we said "Think: widespread inventory liquidations" and added…
To be sure, not every product will see its price cut: commodities, whose bullwhip effect take much longer to manifest itself, usually lasting several years in either direction, are only just starting to see their price cycle higher. However, other products – like those carried by the Walmarts and Targets of the world – are about to see a deflationary plunge the likes of which we have not seen since the global financial crisis as retailers commence a voluntary destocking wave the likes of which have not been seen in over a decade.
Today both Wall Street and the mainstream media have caught up, with both predicting unprecedented deflationary price cuts in the coming weeks.
We start with Morgan Stanley's bearish strategist Michael Wilson, who in his latest bearish weekly note (available to pro subs) focused on shrinking margins in general, and on retailer discounting in particular, and wrote that while there is a modest pick up in over sales, the far more concerning issue is that "inventory across the sector is up about 30% YOY and sales growth is up about 0% YOY translating to approximately 30% YOY of excess inventory" and while mark down/margin pressure did not hit in 1Q it should hit June/July. Indeed, "store checks show that aggressive discounting has already started as of the Memorial Day holiday weekend. Discounting pressure could accelerate through July." And since more retailers are now discounting, "companies are having to offer even bigger discounts to compel consumers to buy, and it is a race to the bottom in margins in order to clear through inventory."
It gets much worse, however, because courtesy of the delayed nature of the bullwhip effect, Morgan Stanley thinks it will be some time before retailers can cut back on forward inventory orders! Companies are no longer in a position to order 6 months in advance because of delays in the supply chain, and are currently working with about an 8 month lead time. Shockingly, this means decisions today to cut forward orders could begin to eliminate the inventory problem in 1Q23, but not likely before then.
As a result, Wilson concludes, "we are likely to see a tidal wave of discounts that carry us through December because 2022 inventory orders have already been placed."
Be seeing you