A Manchin Miracle?
Posted by M. C. on July 28, 2022
The West Virginia coal baron has stunned Washington and struck a serious climate deal with Chuck Schumer.
More corporate taxes. Corporations collect taxes as costs of doing business. Guess who takes the heat.
Bureaucrats' dream come true. A regulation extravaganza. The fun part for the enforcers-The ever present non-compliance penalties (IRS expansion).
Not a word about reduction of government spending.
A nightmare in the making.
https://badnews.substack.com/p/a-manchin-miracle?utm_source=email
Me, I always had faith in Joseph Manchin III.
You, of course, having become a bit cynical lately, may have looked at the million dollars he and his wife rake in annually from their coal business, may have picked up on the sadistic delight he takes in killing the hopes and dreams of Democrats, then bringing them back to life only to kill them again. You may have seen all of that and lost faith. But not me.
I'm kidding, of course. I'm as stunned as you are. This evening, seemingly out of thin air, Manchin and Chuck Schumer put out a joint statement announcing they had come to terms on a deal – a bill, even – that they called the Inflation Reduction Act of 2022. I can't ever recall a major deal being announced without the Capitol Hill press corps knowing that negotiations were even taking place.
The outline of the deal, as announced by the pair, looks like this: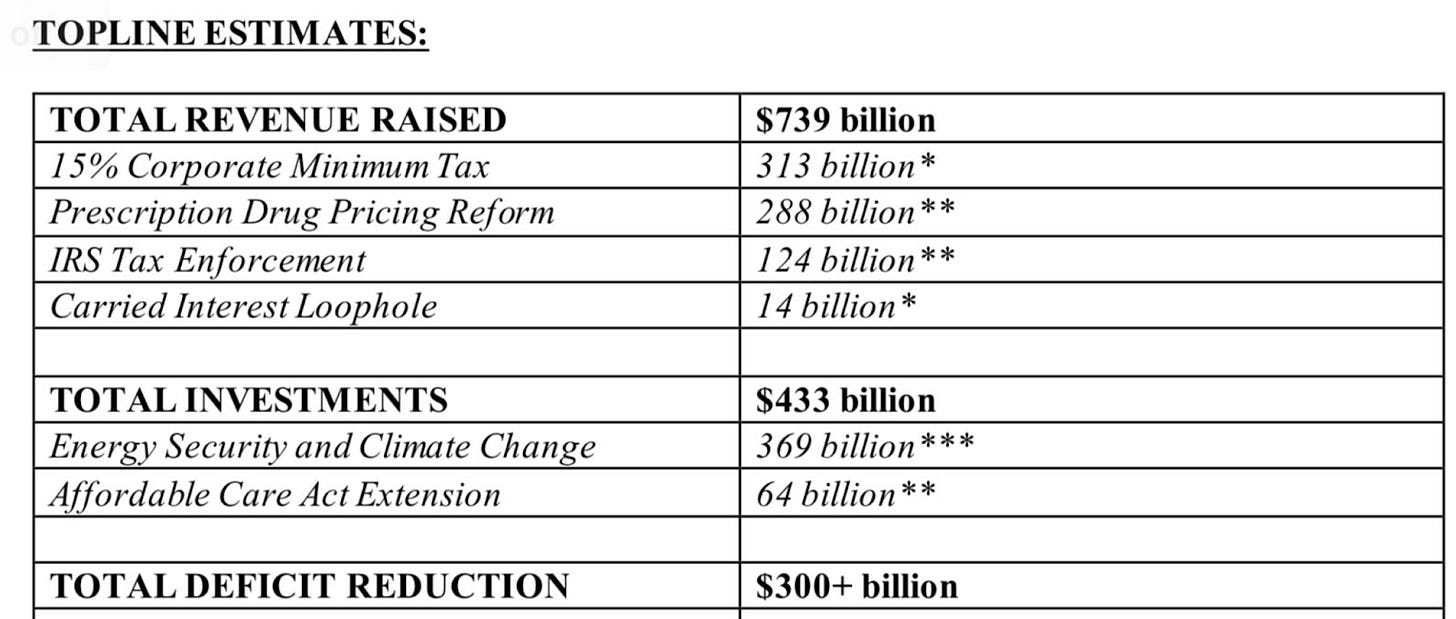 That $369 billion for "energy security and climate change," if it becomes law, will change the world. It represents the biggest climate investment made by any country ever, and it will unlock potentially trillions in private capital, which is waiting on the sidelines for the types of subsidies, credits and guarantees this bill will include. It'll also spur other countries to make their own investments, not wanting to fall behind in the industry that will dominate the next century. It's projected to reduce carbon emissions in the U.S. by 2030 by 40 percent. That's huge.
"An initial review of the agreement indicates that this will mark a historic direct investment in renewable energy and will unleash hundreds of billions of private investment for moonshot projects," Rep. Ro Khanna told me this evening after the deal was announced. Khanna has spent months working with Manchin to keep him in talks, and it looks like that finally paid off. "Activists who have been insisting on getting something done on climate should feel proud that we've gotten to this point," he added. I think that's right, even if it doesn't do everything it ought to. It at least gives humanity a shot.
Climate hawks will criticize the bill for its "energy neutral" approach – in other words, the kinds of subsidies made available for clean energy are supposed to be available to projects that clean up dirty energy too, and cleaning coal is seen by many worse than a filthy pipe dream, but as a ruse actively deployed to stall the transition to clean, renewable energy. I'd say a few things to that:
One, looking at the reality of our energy infrastructure, fossil fuels are going to be with us for a very long time. Reducing and/or sequestering their carbon emissions during the transition is essential. I don't like that fact, but it's the reality we're dealt. If this money can spark some exponential technological development in that direction, we'll all be better off.
Be seeing you