This article is more than 8 years old – It's not Russia that's pushed Ukraine to the brink of war
Posted by M. C. on January 28, 2023
So you don't hear much about the Ukrainian government's veneration of wartime Nazi collaborators and pogromists, or the arson attacks on the homes and offices of elected communist leaders, or the integration of the extreme Right Sector into the national guard, while the anti-semitism and white supremacism of the government's ultra-nationalists is assiduously played down, and false identifications of Russian special forces are relayed as fact.
https://www.theguardian.com/commentisfree/2014/apr/30/russia-ukraine-war-kiev-conflict
The attempt to lever Kiev into the western camp by ousting an elected leader made conflict certain. It could be a threat to us all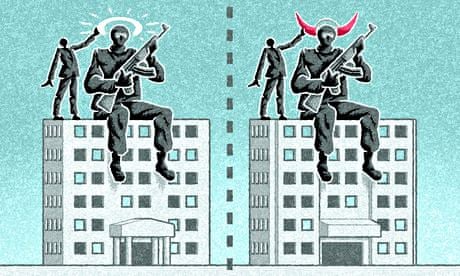 Wed 30 Apr 2014 16.01 EDT
The threat of war in Ukraine is growing. As the unelected government in Kiev declares itself unable to control the rebellion in the country's east, John Kerry brands Russia a rogue state. The US and the European Union step up sanctions against the Kremlin, accusing it of destabilising Ukraine. The White House is reported to be set on a new cold war policy with the aim of turning Russia into a "pariah state".
That might be more explicable if what is going on in eastern Ukraine now were not the mirror image of what took place in Kiev a couple of months ago. Then, it was armed protesters in Maidan Square seizing government buildings and demanding a change of government and constitution. US and European leaders championed the "masked militants" and denounced the elected government for its crackdown, just as they now back the unelected government's use of force against rebels occupying police stations and town halls in cities such as Slavyansk and Donetsk.
"America is with you," Senator John McCain told demonstrators then, standing shoulder to shoulder with the leader of the far-right Svoboda party as the US ambassador haggled with the state department over who would make up the new Ukrainian government.
When the Ukrainian president was replaced by a US-selected administration, in an entirely unconstitutional takeover, politicians such as William Hague brazenly misled parliament about the legality of what had taken place: the imposition of a pro-western government on Russia's most neuralgic and politically divided neighbour.
Putin bit back, taking a leaf out of the US street-protest playbook – even though, as in Kiev, the protests that spread from Crimea to eastern Ukraine evidently have mass support. But what had been a glorious cry for freedom in Kiev became infiltration and insatiable aggression in Sevastopol and Luhansk.
After Crimeans voted overwhelmingly to join Russia, the bulk of the western media abandoned any hint of even-handed coverage. So Putin is now routinely compared to Hitler, while the role of the fascistic right on the streets and in the new Ukrainian regime has been airbrushed out of most reporting as Putinist propaganda.
Be seeing you