URGENT: The newest effort to claim Sars-Cov-2 has natural origins is even more cynical than it first seems
Posted by M. C. on March 24, 2023
And the scientists involved with this charade must know the truth, because they know raccoon dogs are a near-impossible animal host – and what real evidence of a natural virus would look like.
https://alexberenson.substack.com/p/urgent-the-newest-effort-to-claim?utm_source=substack&utm_medium=email

(NOTE TO READERS: THIS PIECE TURNED OUT LONG. I TRY TO WRITE SHORT, BUT I WANTED TO TAKE THE TIME TO LAY OUT THE TIMELINE AND FACTS CONCLUSIVELY. I HOPE YOU THINK THEY ARE AS COMPELLING AS I DO…)
—
I am not making this up.
Last week, The Atlantic hyped a new research preprint as the "Strongest Evidence Yet That an Animal Started the Pandemic."
The actual evidence the paper offers:
That in late 2019 raccoon dogs shit (or bled, or maybe sneezed) at the market in Wuhan where they were sold for slaughter. And that human beings were infected with Sars-Cov-2 at the same market.
That's it.
By the way, these raccoon dogs that the paper's authors want to blame for the epidemic? They have never – as in, not once – been found to be infected with Sars-Cov-2 in the real world.
Not making that part up either.
This new preprint is the scientific equivalent of Alex Murdaugh's decision to take the stand at his double-murder trial last month. Murdaugh was arrogant enough to believe he could outsmart the jury, but as soon as he started dry-crying about "Pawpaw," he might as well have put the cuffs on himself. He should just have kept his mouth shut.
(A raccoon dog. Not a raccoon. Not quite a dog. Also probably not the source of Sars-Cov-2.)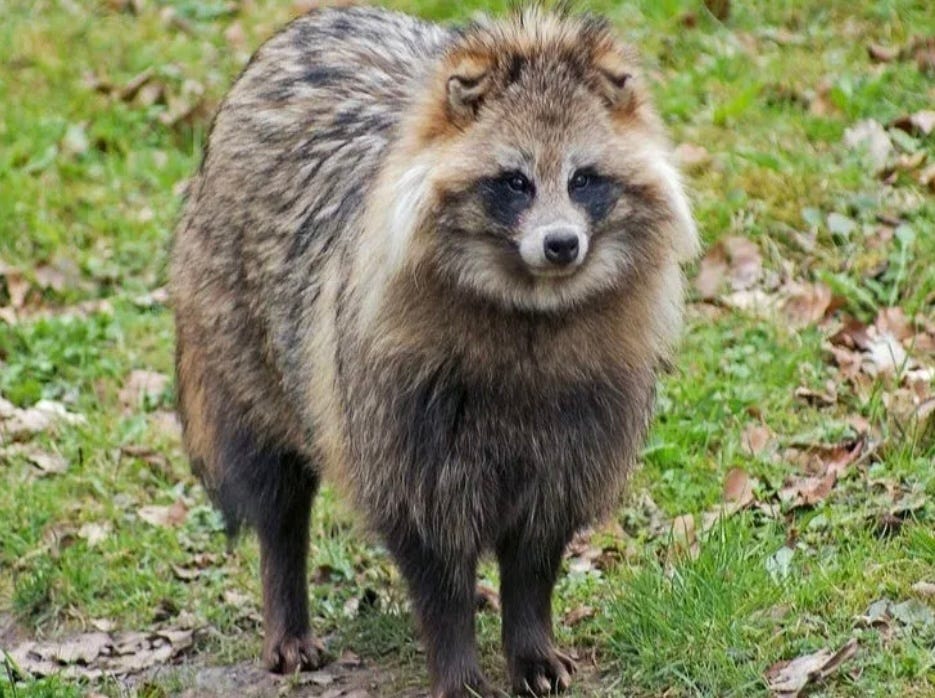 Worst of all, the people who ginned up this nonsense know exactly what they're doing. They know what strong evidence of animal origins of Sars-Cov-2 would look like.
How can I be so sure? Because we have been through this drill before, with the original SARS.
So what would strong evidence of animal origins be? What are we getting instead? And how did we get here?
Be seeing you