https://open.substack.com/pub/cjhopkins/p/the-consent-factory?utm_source=share&utm_medium=android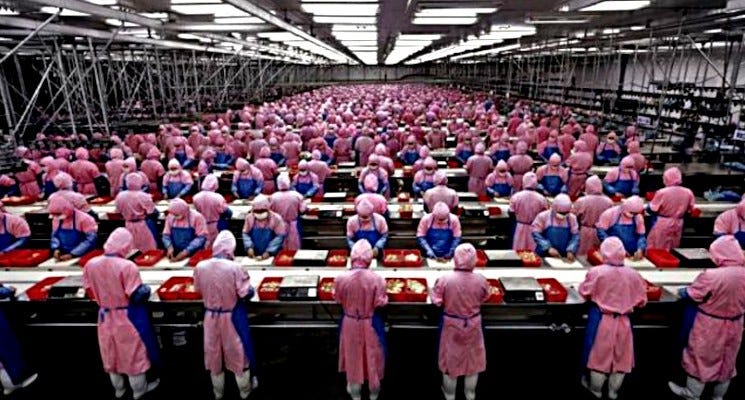 So, Matt Taibbi is going after the Consent Factory. No, not my blog. The actual Consent Factory. The unimaginably powerful, mostly decentralized, global-capitalist propaganda apparatus that manufactures what passes for "reality" in our increasingly totalitarian age. Or he is going after the U.S. division of it, anyway.
Needless to say, I'm pretty excited.
Why am I so excited, you ask? Haven't I been hopping up and down and bouncing off the walls of my enclosure hooting and screeching about how the so-called "Twitter Files" are a "limited hangout" and hurling verbal feces at all and sundry involved like an agitated baboon?
Well, yes, in fact, I have. And I intend to keep on doing that. But here's what I'm excited about. Pay close attention to the job description in Matt's recent help-wanted ad for freelancers:
"[W]e're trying to map a new wing of the U.S. government's propaganda apparatus that popped into view thanks to the Twitter Files. State-directed censorship is scary, but the more disturbing activity we're seeing inside companies like Twitter involves what you might call 'offensive' information operations, a type of aggressive official messaging that all governments practice but is supposed to be restricted by law in the United States."
Matt goes on to explain the background of the project:
"In a remarkably short time since the end of the Obama presidency, the U.S. government has funded an elaborate network of NGOs and think-tanks whose researchers call themselves independent 'disinformation experts.' They describe their posture as defensive — merely 'tracking' or 'countering' foreign disinformation — but in truth they aggressively court both the domestic news media and platforms like Twitter, often becoming both the sources for news stories and/or the referring authorities for censorship requests. The end result has been relentless censorship of, and mountains of (often deceptive) state-sponsored propaganda about, legitimate American political activity."
OK, sure, Matt's Racket News project will almost certainly be limited in scope to operations in the United States, and will probably still be a limited hangout to the degree that it presents a propaganda/disinformation/censorship model wherein power flows downward from the U.S. government to the corporate media and social-media corporations in the outmoded despotic (i.e., Orwellian) fashion that everyone is used to understanding the functioning of oppressive power according to, and I'll definitely hoot and screech about that. However, at least as far as I'm aware, this project will be the first attempt by any high-profile independent journalist to investigate and report on an essential component of the aforementioned official-propaganda apparatus in any kind of systematic manner ("systematic" being the important term here, as we're talking about a cohesive system, and not a series of arbitrary individual actions).
Or at least that sounds like what Matt has in mind.
If Matt and the Racket team pull this off, it will be quite a journalistic accomplishment, which will be totally ignored, perfunctorily dismissed, branded "far-right disinformation," and then methodically visibility filtered by the official propaganda-and-disinformation apparatus that the project intends to expose a part of. 
Be seeing you