https://margaretannaalice.substack.com/p/dispatches-from-the-new-normal-front
"Free inquiry on a free platform is the only practice that distinguishes a free from a slave society."

—Milton Mayer, They Thought They Were Free: The Germans, 1933–45 (paperback, Kindle, audiobook)
When I was little, I had a poster of a raccoon with his paw over a kitten's mouth saying, "If there's anything I can't stand, it's someone talking while I'm interrupting."
I was notorious for interrupting, asking questions, and getting so lost in thought, my mom had an ear doctor test my hearing because I was constantly saying, "What?"
That poster came to mind as I watched the Ministry of Truth campaign against "misinformation" first roll out. Today's version of that poster would say, "If there's anything I can't stand, it's someone's information contradicting my disinformation."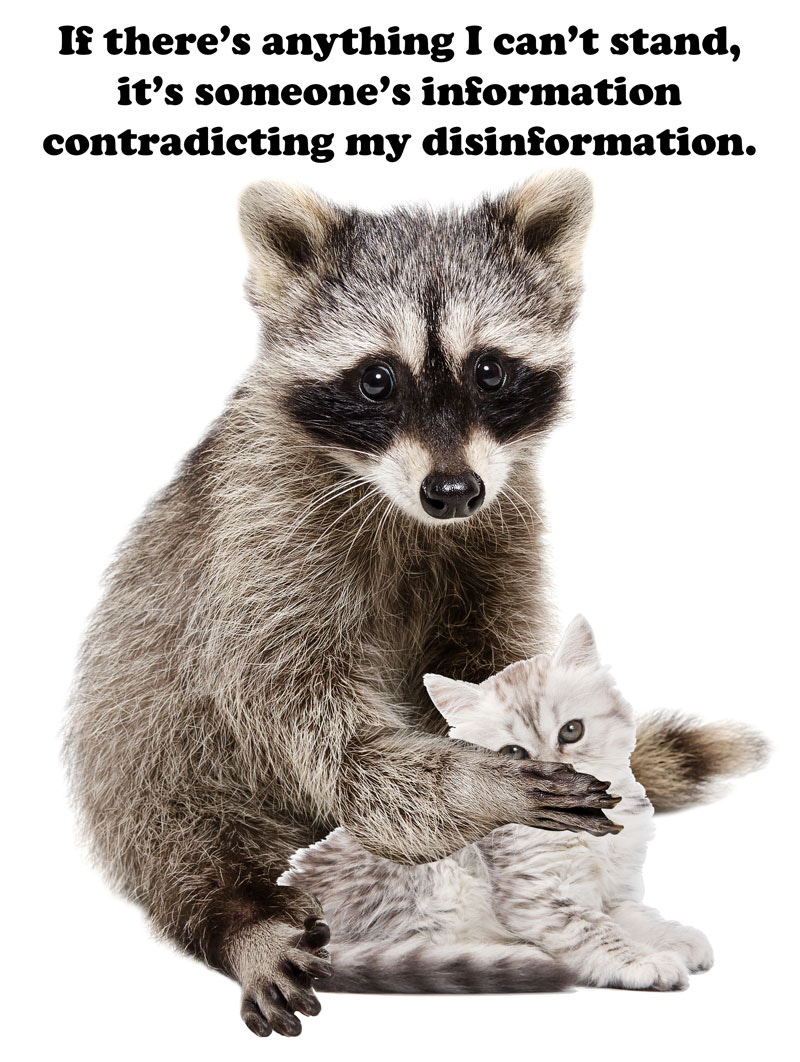 As we all understand by now, when Minitrue defines the "truth" as 2 + 2 = 5, then 2 + 2 = 4 becomes "misinformation."
If you're like me, you've probably had more than a few brushes with memoryholing and maybe even unpersoning as a result of Big Tech's mass censorship rollout.
Not that they'd answer, but I'm tempted to ask the censors, What is the danger, if the sources are patently noncredible? Why treat us like infants incapable of assessing the validity of facts for ourselves? If the misinformation is so evidently false, let us see that on our own and the question will be put to rest.
Sunlight is the best disinfectant and so on—but yeah, that's precisely the problem, isn't it. Darkness must prevail for their narrative to survive the illuminating exposure of sunlight—even if the gatekeepers have to blot out the sun Bill Gates–style.
A few months ago, I started experimenting with real-world attempts to deprogram New Normalers on a private platform. I'd say it's about a 70:30 Covidian:free-thinker ratio, not counting those remaining on the sidelines, quietly nodding in agreement but too cautious to speak out.
What I've discovered, based on the failures and successes of others as well as myself, is it is nearly impossible to gain traction on the "science" front. Their allegiance to the "experts" and the mainstream narrative is imbued with a religious fervor, and anyone who voices even the most hesitant of concerns is a heretical tin-foil hoax plandemic conspiracy nut.
Be seeing you