NATO Exists To Solve The Problems Created By NATO's Existence
Posted by M. C. on December 3, 2022
We're at the most dangerous point in humanity's abusive relationship with US unipolar domination, for the same reason the most dangerous point in a battered wife's life is right when she's trying to escape. The empire is willing to do terrible and risky things to retain control. "If I can't have you no one can" is a line that can be said to a wife, or to the world.
Tell me again, what does the NA in NATO stand for?

https://caitlinjohnstone.substack.com/p/nato-exists-to-solve-the-problems?r=iw8dv&utm_medium=android
NATO has doubled down on its determination to eventually add Ukraine to its membership, renewing its 2008 commitment to that goal in a meeting between the foreign ministers of the alliance in Bucharest, Romania this past Tuesday.
Antiwar's Dave DeCamp writes:
The Romanian city was where NATO initially made the promise to Ukraine back in 2008, and at the time, US officials acknowledged that attempting to bring the country into the alliance could spark a war in the region.

"We made the decision in Bucharest in 2008 at the summit," NATO Secretary-General Jens Stoltenberg said on Tuesday. "I was there … representing Norway as Prime Minister. I remember very well the decisions. We stand by those decisions. NATO's door is open."

In a joint statement, the NATO foreign ministers, including Secretary of State Antony Blinken, said that they "reaffirm" the decisions that were made at the 2008 Bucharest summit.
NATO Doubles Down on Pledge to Eventually Admit Ukraine NATO foreign ministers are holding a summit in Bucharest, where the alliance first made the promise in 2008 by Dave DeCamp @DecampDave #NATO #Ukraine #Russia news.antiwar.com/2022/11/29/nat…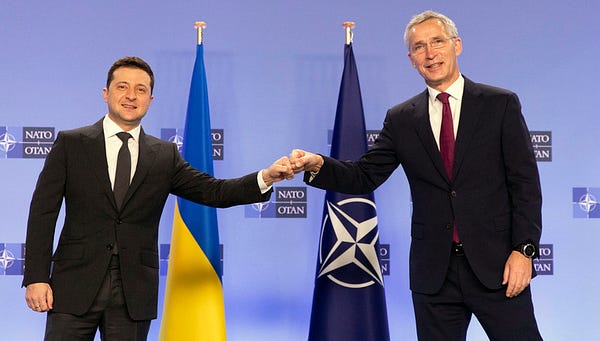 ---
It has become fashionable among the mainstream western commentariat to claim that Russia's invasion of Ukraine had nothing to do with NATO expansion, but as recently explained by Philippe Lemoine for the Center for the Study of Partisanship and Ideology, that's a completely false narrative that requires snipping past comments made by Putin out of the context in which they were made. Many western experts warned for years in advance that NATO expansion would lead to a conflict like the one we're seeing today, and they were of course correct.
Be seeing you