Why is Facebook censoring Sy Hersh's NordStream report? – Responsible Statecraft
Posted by M. C. on April 24, 2023
The social media giant says his piece on US responsibility for blowing up the pipeline is false, allows other stories with proven dubious claims.
https://responsiblestatecraft.org/2023/04/21/why-is-facebook-censoring-sy-hershs-nordstream-report/
Written by
Branko Marcetic
Since the start of the Russian invasion of Ukraine, U.S. policy toward the conflict has inter-mingled uneasily with the U.S. government's growing convergence with the social media platforms that make up today's digital public square.
Tech companies have selectively relaxed their bans on violent and hate speech to align with Ukraine's war effort, shuttered the accounts of media outlets critical of the war and U.S. policy to it, and seen a vast army of bots push content supporting Ukraine and its NATO partners. And now, Facebook is actively censoring and discouraging the sharing of Seymour Hersh's reporting on the alleged U.S. role in the attack on the Nordstream pipelines.
As of Thursday, if you try to share on Facebook the February 8 Substack post in which Hersh first laid out the anonymously sourced charge, you'll first be met with a prompt informing you about "additional reporting" on the subject in the form of Norwegian fact-checking website Faktisk, and warning you that "pages and websites that repeatedly publish or share false news will see their overall distribution reduced and be restricted in other ways."
If you decide to "share anyway," Hersh's piece is posted but blurred out, and labeled "false information" by the social media platform. (It's since been unblurred and labeled "partly false information"). The phenomenon was first pointed out by Michael Shellenberger, and has since been replicated by others, including myself.
Besides labeling the post as false, Facebook also sent me a notification roughly 10 hours later informing me about the notice they'd added and that I had shared something that "includes information that independent fact-checkers said was partly false." Facebook cautions that "people who repeatedly share false information might have their posts moved lower in News Feed," suggesting that if I go on to share any other reporting that's been challenged by fact-checkers, I'll be punished by having my account's reach throttled.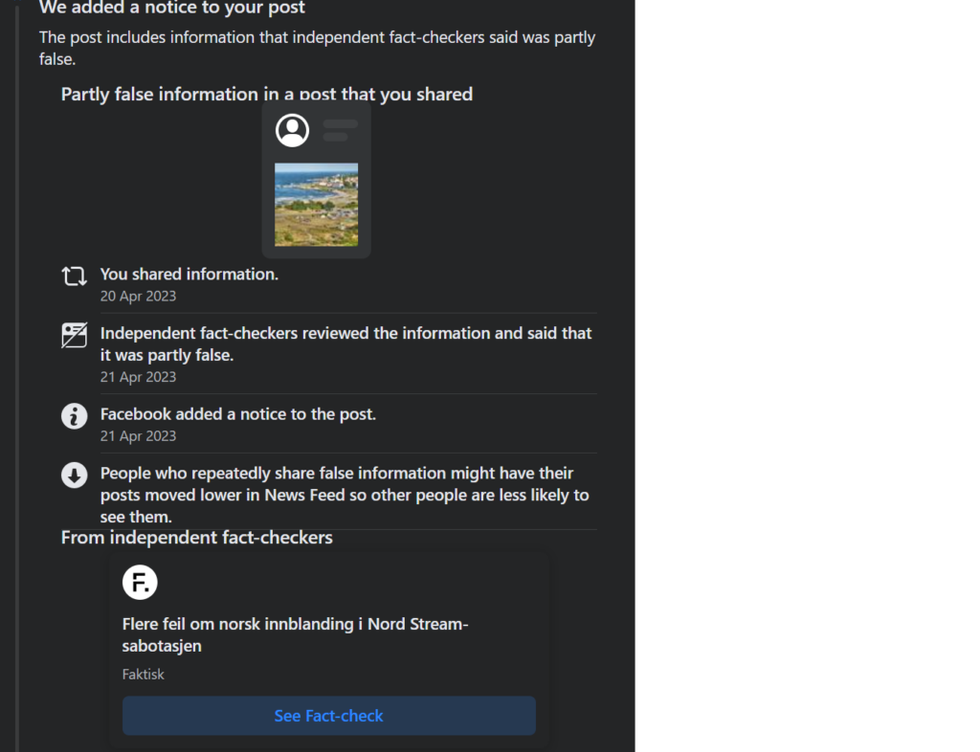 Yet the fact-check in question from Faktisk — Norwegian for "Actually" — leans heavily on open source intelligence whose reliability has itself been recently challenged. Hersh has previously fended off criticism that his reporting doesn't match up with public data about ship movements by arguing this information can be manipulated. Indeed, in a piece putting forward its own, alternate theory to Hersh's, the New York Times itself noted that the pipelines weren't closely monitored by commercial or government sensors, and that there were roughly 45 "ghost ships" whose location transponders weren't on.
Be seeing you