Frank Olson died in 1953, but, because of clandestine US government experiments, it took decades for his family to get closer to the truth
CIA 101
What is it doing to  now?
https://www.theguardian.com/us-news/2019/sep/06/from-mind-control-to-murder-how-a-deadly-fall-revealed-the-cias-darkest-secrets
Frank Olson died in 1953, but, because of clandestine US government experiments, it took decades for his family to get closer to the truth. By
Stephen Kinzer
Glass shattered high above Seventh Avenue in Manhattan before dawn on a cold November morning in 1953. Seconds later, a body hit the sidewalk. Jimmy, the doorman at the Statler hotel, was momentarily stunned. Then he turned and ran into the hotel lobby. "We got a jumper!" he shouted. "We got a jumper!"
The night manager peered up through the darkness at his hulking hotel. After a few moments, he picked out a curtain flapping through an open window. It turned out to be room 1018A. Two names were on the registration card: Frank Olson and Robert Lashbrook.
Police officers entered room 1018A with guns drawn. They saw no one. The window was open. They pushed open the door to the bathroom and found Lashbrook sitting on the toilet, head in hands. He had been sleeping, he said, and "I heard a noise and then I woke up."
"The man that went out the window, what is his name?" one officer asked.
"Olson," came the reply. "Frank Olson."
"In all my years in the hotel business," the night manager later reflected, "I never encountered a case where someone got up in the middle of the night, ran across a dark room in his underwear, avoiding two beds, and dove through a closed window with the shade and curtains drawn."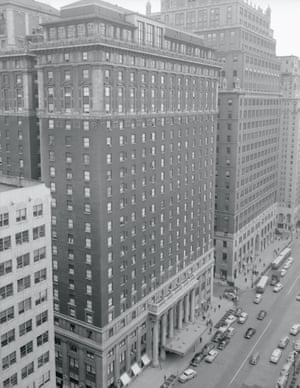 Leaving the police officers, the night manager returned to the lobby and, on a hunch, asked the telephone operator if any calls had recently been made from room 1018A. "Yes," she replied – and she had eavesdropped, not an uncommon practice in an era when hotel phone calls were routed through a switchboard. Someone in the room had called a number on Long Island, which was listed as belonging to Dr Harold Abramson, a distinguished physician, less well known as an LSD expert and one of the CIA's medical collaborators.
"Well, he's gone," the caller had said. Abramson replied: "Well, that's too bad."
To the first police officers on the scene, this seemed like another of the human tragedies they saw too often: a distressed or distraught man had taken his own life. They could not have known that the dead man and the survivor were scientists who helped direct one of the US government's most highly classified intelligence programmes.
Early the next morning, one of Olson's close colleagues drove to Maryland to break the terrible news to the dead man's family. He told Alice Olson and her three children that Frank "fell or jumped" to his death from a hotel window. Naturally, they were shocked, but they had no choice other than to accept what they were told. Alice did not object when told that, given the condition of her husband's body, family members should not view it. The funeral was held with a closed casket. There the case might have ended.
Decades later, however, spectacular revelations cast Olson's death in a completely new light. First, the CIA admitted that, shortly before he died, Olson's colleagues had lured him to a retreat and fed him LSD without his knowledge. Then it turned out that Olson had talked about leaving the CIA – and told his wife that he had made "a terrible mistake". Slowly, a counter-narrative emerged: Olson was disturbed about his work and wanted to quit, leading his comrades to consider him a security risk. All of this led him to room 1018A.
---
Frank Olson had been one of the first scientists assigned to the secret US biological warfare laboratories at Fort Detrick in Frederick, Maryland during the second world war. There Olson began working with the handful of colleagues who would accompany him throughout his clandestine career. One was Harold Abramson. Others included ex-Nazi scientists who had been brought to work on secret missions in the US. For a time they worked on aerosol technologies – ways to spray germs or toxins on enemies and to defend against such attacks. Later, Olson met with American intelligence officers who had experimented with "truth drugs" in Europe.
Olson was discharged from the army in 1944, but remained at Fort Detrick on a civilian contract and continued his research into aerobiology. Several times he visited the secluded Dugway Proving Ground in Utah, which was used for testing "living biological agents, munitions and aerosol cloud production". He co-authored a 220-page study entitled Experimental Airborne Infections, which described experiments with "airborne clouds of highly infectious agents".
In 1949, he travelled to the Caribbean for Operation Harness, which tested the vulnerability of animals to toxic clouds. The next year, he was part of Operation Sea Spray, in which dust engineered to float like anthrax was released near San Francisco. He regularly travelled to Fort Terry, a secret army base on Plum Island, off the eastern tip of Long Island, which was used to test toxins too deadly to be brought on to the US mainland.
This was the period when senior army and CIA officers were becoming deeply alarmed at what they feared was Soviet progress toward mastering forms of warfare based on microbes. Their alarm led to the creation of the special operations division. Rumours about its work spread through offices and laboratories. Olson learned of it over an evening game of cards with a colleague, John Schwab, who unbeknown to him, had been named the division's first chief. Schwab invited him to join. Olson accepted immediately.
Less than a year later, Olson succeeded Schwab as chief of the special operations division. His job description was vague but tantalising: collect data "of interest to the division, with particular emphasis on the medico-biological aspects", and coordinate his work with "other agencies conducting work of a similar or related nature". That meant the CIA.
Olson's speciality was "the airborne distribution of biological germs", according to one study. "Dr Olson had developed a range of lethal aerosols in handy sized containers. They were disguised as shaving cream and insect repellants. They contained, among other agents, staph enteroxin, a crippling food poison; the even more deadly Venezuelan equine encephalomyelitis; and most deadly of all, anthrax … Further weapons he was working on included a cigarette lighter which gave out an almost instant lethal gas, a lipstick that would kill on contact with skin and a neat pocket spray for asthma sufferers that induced pneumonia."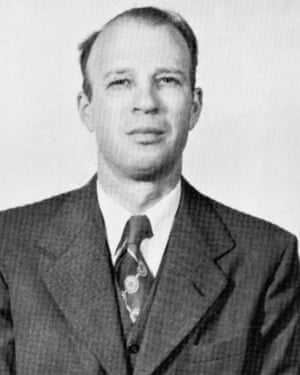 By the time Olson stepped down as chief of the special operations division in early 1953, complaining that the pressures of the job aggravated his ulcers, he had joined the CIA. He stayed with the division, which was officially part of the army but functioned as a CIA research station hidden within a military base. There he came to know Sidney Gottlieb and his deputy, Robert Lashbrook, the two scientists who would soon be running a top-secret CIA project codenamed MK-Ultra.
Gottlieb was the CIA's chief poison-maker. Over two decades, he oversaw medical experiments and "special interrogation" projects in which hundreds of people were tormented and many minds were permanently shattered. During this period, there was an obsession at the CIA: there is a way to control the human mind, and if it can be found, the prize will be nothing less than global mastery. MK-Ultra was a top secret programme of experiments in mind control that used, as its basic formula, doses of LSD given to "expendables". Gottlieb wanted to discover how much LSD a human being could take. Could there be a breaking point, he wondered – a dose so massive that it would shatter the mind and blast away consciousness, leaving a void into which new impulses or even a new personality could be implanted?…
Be seeing you