"People in the United States are skeptical of anything that the government puts out because the intelligence-gathering process in our country has been weaponized for political ends,"
Really? I frequent the letters section of my local paper. The people still talk about how Russia spread DNC info. Assad gassed his people. On and On and ON…
Where do your friends get their news. Stephen Colbert or The Intercept?
Chris Cuomo or Ron Paul?
Do they say The InterWhat…Ron Who.  Thought so.
You better get to work.
https://www.shtfplan.com/headline-news/american-gulag-death-of-jeffrey-epstein-will-julian-assange-be-next_08202019
Mac Slavo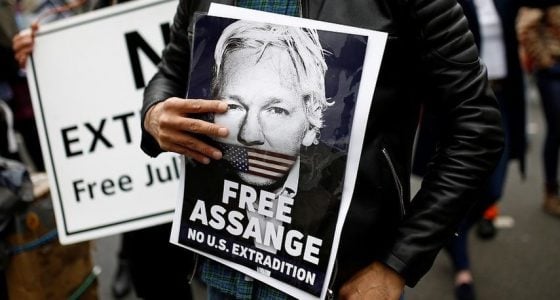 The death of millionaire sex offender Jeffrey Epstein behind bars should trigger "system-wide self-reflection" on how prisoners are treated. The Metropolitan Correctional Center "is sort of like an American gulag for people who have not been convicted of anything," Epstein lawyer Marc Fernich said.
Epstein had at least some dirt on some high-powered people like Bill Clinton and he could very well be dead because he was going to talk.
And another person currently jailed for giving the American public information the United States government desperately wanted to keep secret, is Julian Assange.  His health is failing and the highly dubious death of Jeffrey Epstein in a U.S. maximum-security prison is another strong reason not to extradite Assange into one.
Epstein's death has gotten his lawyer to speak out about the conditions in American prisons, likening them to the gulags of the Soviet Union. MCC is "institutionally ill-equipped" to deal with someone like Epstein who wouldn't last long in general population but who isn't a hardened criminal, Fernich explained to RT.  "This is one of the toughest pre-trial detention facilities in the country. And the conditions are inhumane." Epstein, he insists, was "presumed innocent," despite his 2008 conviction for soliciting underage prostitutes – part of a slap-on-the-wrist plea deal the fallout from which culminated in this year's sex trafficking charges – and should not have been confined in such "barbaric" conditions.
But there is every reason to fear Assange is already in danger, in Belmarsh maximum-security prison, where he is currently incarcerated. Assange did the unthinkable. He exposed the government for what it really is: a corrupt authoritarian entity that firmly believes it has the right to enslave everyone else.  Pressenza wrote: "The Establishment has conspired to reduce his ability to defend himself in court.  I am not convinced it is not conspiring to destroy him."…
"People in the United States are skeptical of anything that the government puts out because the intelligence-gathering process in our country has been weaponized for political ends," said Fernich.
Be seeing you