Billions of pounds over 20 years and no one saw it! MI5 missed the whole thing! I can believe that. Russian spies ran rampant in MI5 & 6 in the 30's through 50's…at least. A sieve.
The Labour party missed Billions of pounds over 20 years being stolen but accepted 'donations' with no questions. It sound like the US defense department.
A lot of knowing people had their pockets lined with stolen tax payer money.
Open borders, overbearing government, Muslim London mayor. A "conservative" prime minister that wants her country to be ruled by Brussels. Conservatives over there are closer to our democrats. Labour…
The future is looking grim for the UK.
https://www.breitbart.com/europe/2019/04/01/report-gang-stole-billions-infiltrated-govt-funded-al-qaeda-labour/
by BREITBART LONDON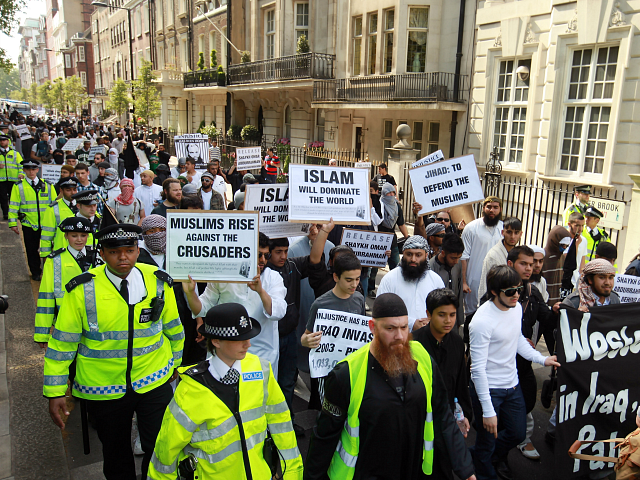 A vast network of British Asian gang members linked to Abu Hamza and the 7/7 bombers infiltrated government agencies, defrauded taxpayers of billions of pounds, and funnelled tens of millions to Osama bin Laden and al-Qaeda over 20 years, an investigation claims to have found.
The report suggests that, through a complex series of tactics, including exploitation of illegal immigration, benefits fraud, VAT fraud, and mortgage fraud, the gang managed to steal an astonishing £8 billion.
These funds were allegedly used to provide lavish lifestyles for the gang's members, including luxury cars and properties — but also helped bankroll Osama bin Laden's notorious al-Qaeda network, claims a Sunday Times investigation.
It is believed that £80 million was sent to the jihadists to help them fund their radical Islamic terrorist activities, with a source claiming that "MI5 had information that the ultimate destination for some of the money was Osama bin Laden's compound in Abbottabad."
The report indicated that investigators had found "20 potential internal fraud cases including (gang) members in government agencies" in one company alone, and that "infiltration was widespread". Read the rest of this entry »